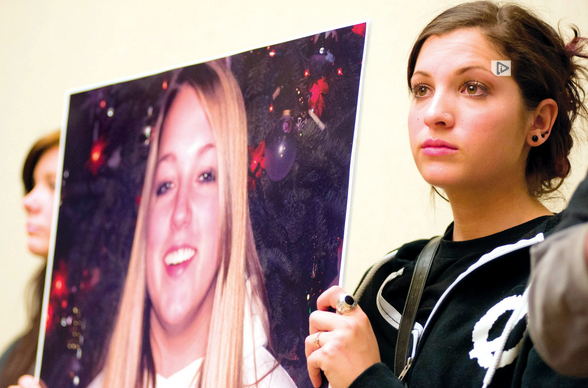 Massive crowd addresses Simi leaders regarding growing drug problem
That was the rallying cry heard Monday night as hundreds of people packed the council chambers at City Hall to speak out on the heroin epidemic that has hit too close to home for several Simi Valley families.
There, under the banner of "Heroin Sucks," residents shared heart-wrenching stories of how they have personally been affected by the influx of drugs into the community.
The crusade was sparked by longtime Simi resident Susan Klimusko. Her son Austin died Jan. 8. He was 23 years old.
A 2007 Royal High School graduate, Austin had battled an opiate addiction for three years. He had been in rehab for 90 days when he checked himself out of the sober living facility he was staying at in Bakersfield. He died three days later, alone in a motel.
"Parents with kids on the wrong track . . . we watch them selfdestruct. We fight a war—it's the drug war—to save our child's life," Klimusko told the City Council while her husband, Ray, held up a photo of Austin. "I know. I lost my war. I'm not here for my children, I'm here for your children and the children of my community."
A friend in the fight is Melissa Siebers. She knows too well the Klimuskos' pain.
"Her son Austin died 16 days before my Lindsay," said Siebers, whose daughter, Lindsay Cook, also overdosed on heroin. "We have a problem in our community and we are here to make a difference. My new favorite saying is 'not one more.' This is all about awareness."
Jodi Johnston's son Andrew died last March from a heroin overdose at age 21. Now, like Klimusko and Siebers, her goal is to inform others because no one is immune— not even an all-star student growing up in a happy, stable home.
"I assure you everyone in this room and everyone in this city is in as much danger of this happening as my family was," Johnston said.
Pat Montoya, a youth sports coach in Simi, hasn't lost his son to drugs—but lives in fear of that happening.
"In the morning, to watch your son to see if he's alive in his room is what we have to do now on a daily basis," Montoya said, choking up. "We spent our kid's college money on his drug rehab and paying back the people he stole from . . . I think we can be on the forefront of change here . . . I want to be the solution not the problem."
The drug problem is not unique to Simi—heroin abuse is rampant across the country—but in light of recent deaths, parents, teenagers and others who have witnessed the insidious drug destroy lives are asking for the city's help.
"These drugs have become prevalent in our community and they're taking our young adults and ruining our families," said John Poleno, a recovering alcoholic and addict who works as a substance abuse counselor at Action Family Counseling in Simi. "This is our problem that is going on right here, right now, and . . . it is time to clean up our schools and streets and be proud of our city once again."
Jackie Hardie, a counselor with the Simi Valley Unified School District for more than 30 years, has seen the problem grow steadily, too.
"So many of our kids are naïve to addiction. They don't think it is going to happen to them. Just once, twice and that's enough. They're addicted and they don't know how to get out of it," she said. "We do as much as we can in the schools, we work hard, but I think more needs to be done."
Simi native Kelli Dunkin, 18, said she and her friends are no longer shocked to hear about the drug problem plaguing the city—but they are still scared.
"We are worried for our friends and ourselves and we are here today because we don't want to go to another funeral," she said.
Diane Gasso, Austin's aunt, said the 400 or so people who attended Monday's rally are ready to give their time and resources to combat the issue, but in order to create change they need the whole community— including city, school and police officials—to acknowledge and address the problem head-on.
"We need you and you need us. Together we have an opportunity to take back our community and do so in a way that can serve as a model for other cities," Gasso said. "This is our call to action and what we do about this problem moving forward will be our legacy."
After hearing the testimony of residents, Councilmember Glen Becerra struggled to hold back his tears.
PROMOTED CONTENT
rose-toy.co specializes in the production and distribution of high-quality rose sexual toys and vibrators. We cater to a global market, offering a wide range of products designed to meet the diverse needs and preferences of our customers. Our focus is on delivering products that are safe, innovative, and discreet, and our commitment to customer satisfaction is second to none. We believe in promoting a healthy and fulfilling sex life, and our products are designed to help you achieve just that. Whether you're exploring your sexuality or looking to add some excitement to your relationship, we have the perfect toy for you.
"I watched my mom suffer with my brother, who is a recovering alcoholic and drug user from this town . . . and I credit him with my life and not going that way," Becerra said. "He'll tell you it's worth it because I turned out okay . . . but his family suffered for it. And you all know that suffering."
Councilmember Steve Sojka was also moved by the evening. Seeing the community united, he called it Simi Valley's "finest hour."
"It breaks my heart that this could touch anyone and everyone in our community," said Sojka, who knew a couple of the speakers. "It takes a village and the village has spoken. . . . This is an unbelievable problem that is going to take all of us to fix."
The entire council expressed support for many of the ideas mentioned by residents, such as ramping up narcotics enforcement and creating a multi-agency task force to go after dealers, doctors and businesses that are feeding the trend.
The council is also in favor of launching a community education campaign that includes working with the school and park districts and organizing another drug abuse seminar like the one presented at the Reagan Library in November.
"We set it up for 1,000 people, and there are more people in this room tonight than there were that night," Becerra said. "So I would say that was a good start—this is an even better start."