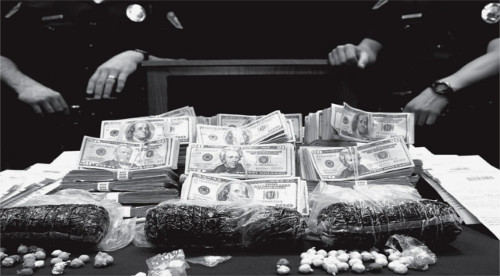 Three suspects arrested as result of months-long investigation
"It's made a very big dent in the transportation of heroin into our community," added Lt. Dave Livingstone, manager of the department's Special Operations Unit, whose personnel were involved in the case.
According to Livingstone, detectives in the Special Investigations Section (SIS) developed information in September 2011 that ultimately led to shutting down the supply network that was actively selling heroin in Simi Valley and Los Angeles County.
On March 29 SVPD officers, with the assistance of narcotics officers from the Los Angeles Police Department's Topanga Area station, arrested three people on suspicion of narcotics violations: Jose Alfredo Carillo- Flores, 23, of North Hollywood; Joseph Ramirez Ortiz, 19, also of North Hollywood; and Jose Medina Zepeda, 39, of Sylmar.
All three were booked on charges of possession of illegal narcotics for sale, transportation of illegal narcotics for sale and conspiracy to commit a crime.
They are being held at LAPD Valley Jail in Van Nuys on Immigration and Naturalization Service holds pending the investigation.
The case will be presented to the Los Angeles district attorney's office to determine what criminal charges will be filed.
In addition to arresting the three suspects, officers seized more than 5 pounds of heroin— 4.5 pounds at one location—with a street value of nearly $300,000, Livingstone said. The amount of heroin confiscated could have supplied 192 people with the drug for about one year.
More than $120,000 in U.S. currency, believed to be proceeds from drug sales, was also seized, as were five vehicles officials said were used to transport illegal narcotics.
"At the rate they were doing business, over a one-year period that would equate to a $6-million business," Livingstone said. "So it's a very significant cell that was shut down because of our investigation."
On display during the press conference was the department's bounty: bound stacks of cash, clear bags filled with black tar heroin and numerous evidence envelopes filled with colorful balloons—each packaged with one dose and ready to sell for $15 to $30.
Capt. John McGinty said the average addict would use two balloons a day.
" Most users, if they're a chronic user, will use in the morning and the afternoon," he said.
Black tar heroin, a manufactured synthetic version of heroin that can be injected or smoked, is the most common form of the drug officers are seeing on the streets, Livingstone said.
Officials said the bust is big for Simi Valley, especially in regard to the recent spate of heroin overdoses and deaths, particularly among Simi's teens and young adults, as well as increased public attention on the drug abuse issue. Livingstone said he wouldn't call the suspects in custody main suppliers but shutting down a $6-milliona year criminal enterprise is "huge."
"Any time we can close off a cell like that, that's transporting narcotics of any kind into the city, it's a success," he said.
While Not One More— a grassroots campaign led by residents who've been personally affected by addiction and are dedicated to stamping out drug abuse—has brought new awareness to the issue, Livingstone said the department has long been committed to getting narcotics off the street.
"This is something that the police department always has been very diligent on," he said.
Susan Klimusko, a Simi resident who sparked the Not One More movement after her 23-year-old son Austin died of a heroin overdose in January, was at the press conference last Friday and was grateful to see Simi Valley police working hard to eradicate drugs in the community.
"Simi Valley used to be the safest community, and we want that back. We want a safe environment for the kids coming up and growing up," she said. "I think publicizing (arrests like these) helps us as a community kind of see what's going on and educates all of us."
She said it also sends a message to the dealers.
"I've heard . . . from other parents that things are getting quieter—that drug dealer down the street isn't as active as he was. That makes us feel for the next (generation of) kids . . . maybe it's not as attainable," she said. "I think we're sending messages, and that's good."
Mayor Bob Huber had a message of his own.
"We want the word to go out loud and clear: Come across our borders, hurt our children, we're going to catch you and you're going to prison," Huber said.
By Carissa Marsh
Source: https://www.mpacorn.com/news/2012-04-06/Community/Simi_police_make_major_heroin_bust.html#.Vx0_fkdsvIV