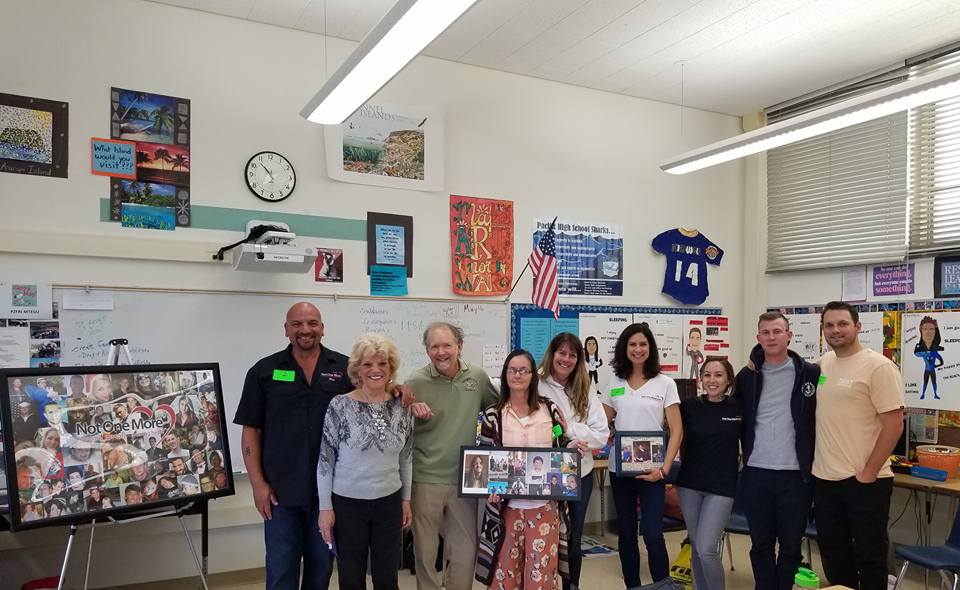 Today Not One More visited and presented at Pacific high school in Ventura for their Road to Addiction course they do for the semester.
In our efforts to help save a life from having to be in any of our shoes or walk our walk we have the honor of speaking to their students .
Today was different in that we also worked with Straight up Ventura County and Roland in making a PSA and video with our speakers and our NOM presentation. Can't wait to see the final cuts on both of these videos.

We also introduced angel Eddie and his mother Mary Young speaking on his behalf who shared on his life, Eddie's cousin was in the audience as well.

Our Not One More mom Darian O'Brien speaking on Patrick's behalf with her word's of the effects on their family of losing Patrick to an accidental overdose.
We had a couple of new recovery people come with us today and shared their experiences and their lives with the audience, thank you Nick and Charlie for your share.
Aliza Thomas our Not One More board member shared on her road to addiction and recovery as she shared on her journey and as a successful author of "Junkie" by Tommy Zee.
Thank you to our angel's Patrick, Eddie, Claire and our other angel's family for speaking the loudest with your silence.
Thank the teacher's and staff of Pacific High School for moving forward on their drug education class called "The Road to addiction" course, educating their students and being hands on with these kid's with visual projects and assignments that involve the students not just talking at them, if only we can get to one but I know more than that will be affected in changing their lives.
Thank you Doug Kidwell, Beth Borer and Angie Weatherford for being leaders in this world.
Topics covered.
-Mental health
-Bullying
-Internet safety
-Cyber bullying
-Reasons for trying or experiencing drugs.
-Peer pressures
-Peer support
-Good Samaritan law
-Narcan
-perscription drug abuse
-perscription drug's
-marijuana
-heroin
-Meth
-Xanax, street and pharmaceutical
And many other subjects we touched on.